LA6NCA

Audio amplifier with ECC82 tube.
---
This is my new tube audio amplifier.
I use an ECC82 for the voltage gain in the amplifier.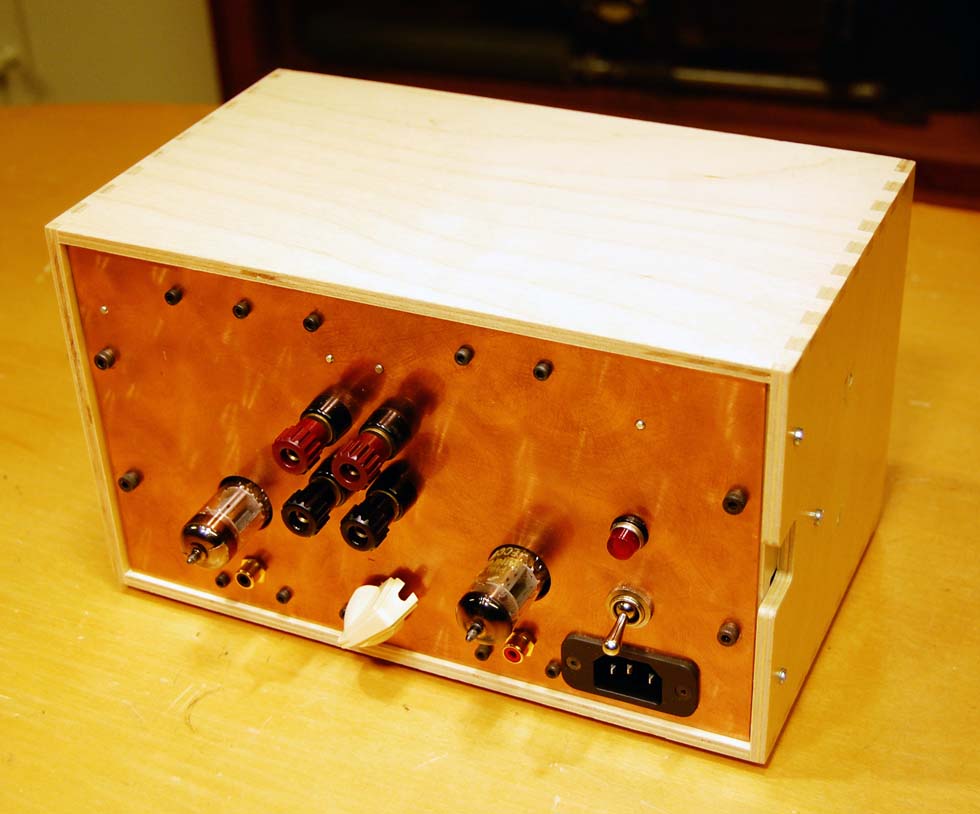 Here is a 2x 50 Watt stereo amplifier in a IKEA box.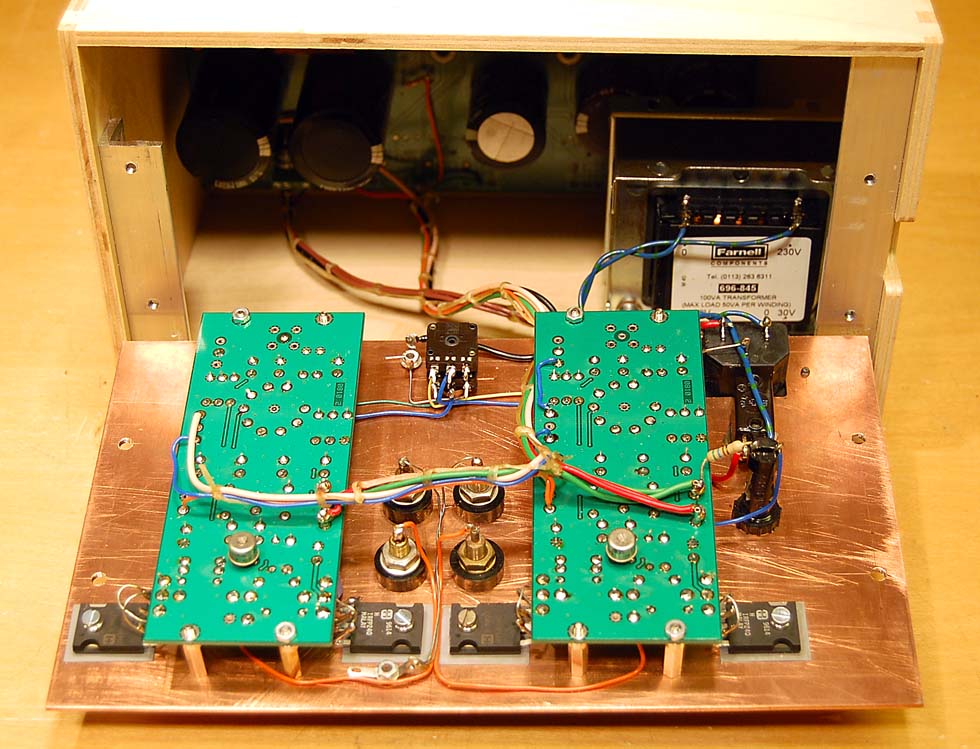 Inside the amplifier. I use two of my new PCB's here.
Mosfet's are used in the output stage.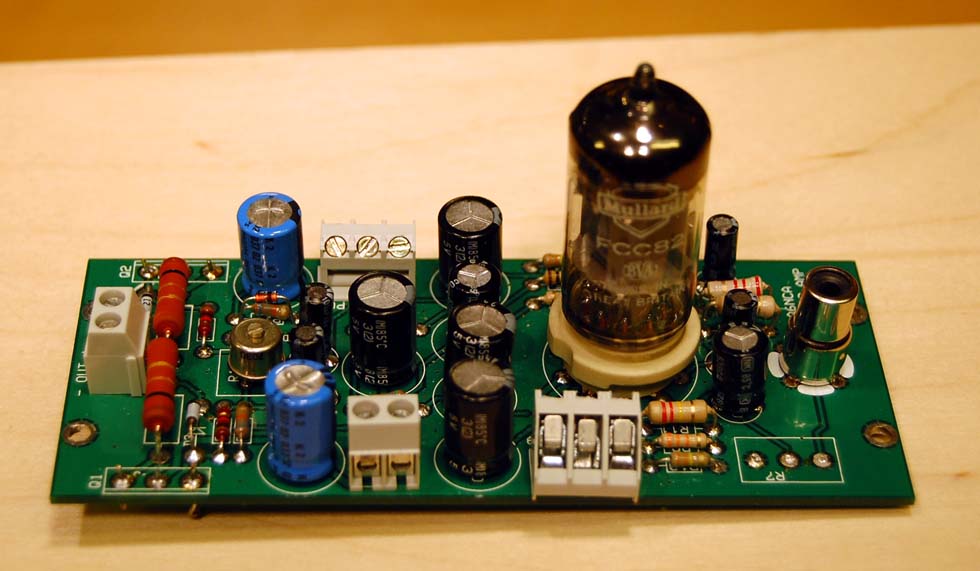 Here is the PCB. This is a small easy to build board.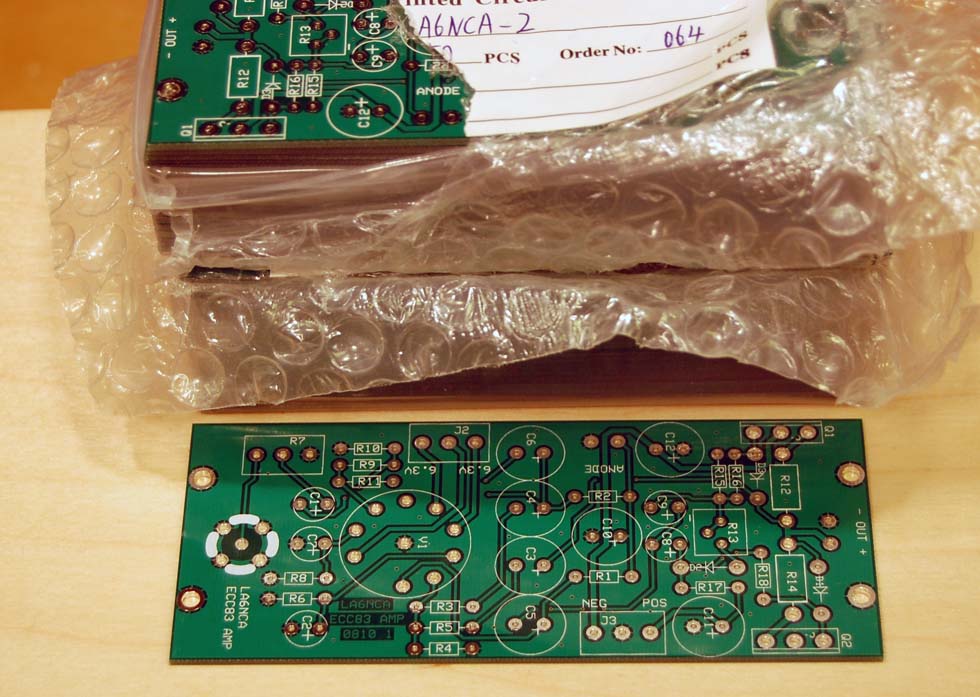 CIRCUIT DESCRIPTION


| | | |
| --- | --- | --- |
| R1 | 56K | 1/4 W |
| R2 | 56K | 1/4 W |
| R3 | 33K | 1/4 W |
| R4 | 330K | 1/4 W |
| R5 | 100K | 1/4 W |
| R6 | 1K | 1/4 W |
| R7 | 10K | TRIM. POT |
| R8 | 1K | 1/4 W |
| R9 | 33K | 1/4 W |
| R10 | 330K | 1/4 W |
| R11 | 220K | 1/4 W |
| R12 | 1R | 5 W |
| R13 | 10K | VOL. POT |
| R14 | 1R | 5 W |
| R15 | 68K | 1/4 W |
| R16 | 1K | 1/4 W |
| R17 | 68K | 1/4 W |
| R18 | 1K | 1/4 W |
| C1 | 47uF | Bipolar |
| C2 | 100uF, 25V | Electrolytt |
| C3 | 4.7uF | |
| C4 | 4.7uF, 400V | Electrolytt |
| C5 | 4.7uF, 400V | Electrolytt |
| C6 | 4.7uF, 400V | Electrolytt |
| C7 | 100uF, 25V | Electrolytt |
| C8 | 100uF, 25V | Electrolytt |
| C9 | 100uF, 25V | Electrolytt |
| C10 | 4.7uF, 400V | Electrolytt |
| C11 | 220uF, 50V | Electrolytt |
| C12 | 220uF, 50V | Electrolytt |
| | | |
| --- | --- | --- |
| D1 | 12V, 0.5 W | Zener Diode |
| D2 | 5.6V, 0.5W | Zener Diode |
| D3 | 12V, 0.5 W | Zener Diode |
| Q1 | IRFP9240 | MOSFET -200V, 12A |
| Q2 | IRFP240 | MOSFET 200V, 20A |
| J1 | RCA | PHONO CONNECTOR |
| J2 | 3p. TERMINAL | 3x5 mm terminal |
| J3 | 3p. TERMINAL | 3x5 mm terminal |
| J4 | 2p. TERMINAL | 2x5 mm terminal |
| J5 | 2p. TERMINAL | 2x5 mm terminal |
---
NEW STEREO PCB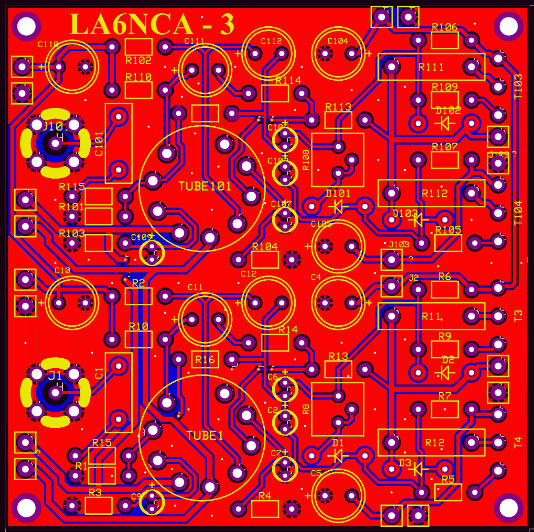 The picture is from GERBER files to the card.

CIRCUIT DESCRIPTION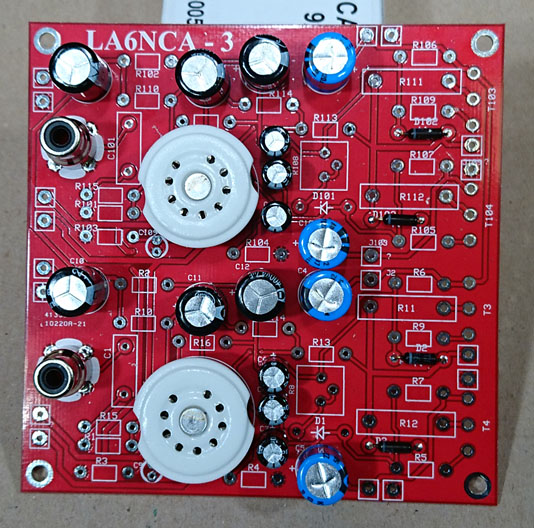 Now came the circuit board, and I have started mounting.



BACK TO LA6NCA HOMEBREW MAIN PAGE