LA6NCA RADIO PAGE
Torn. E. b
REGENERATIVE TRF RECEIVER

---
---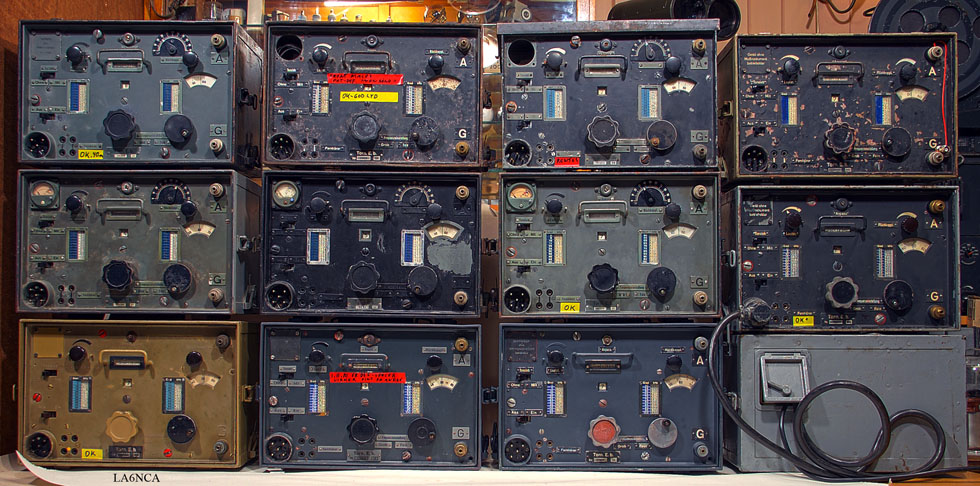 torn46a.jpg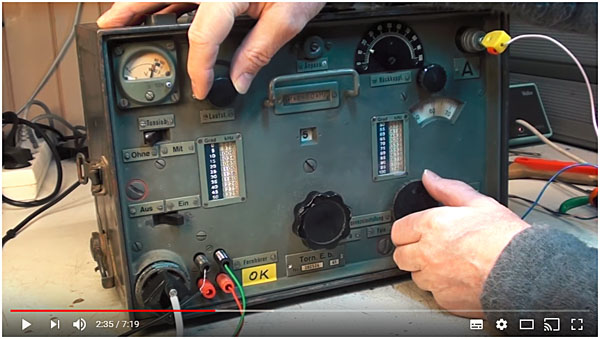 Film, Listen to a Torn.E.b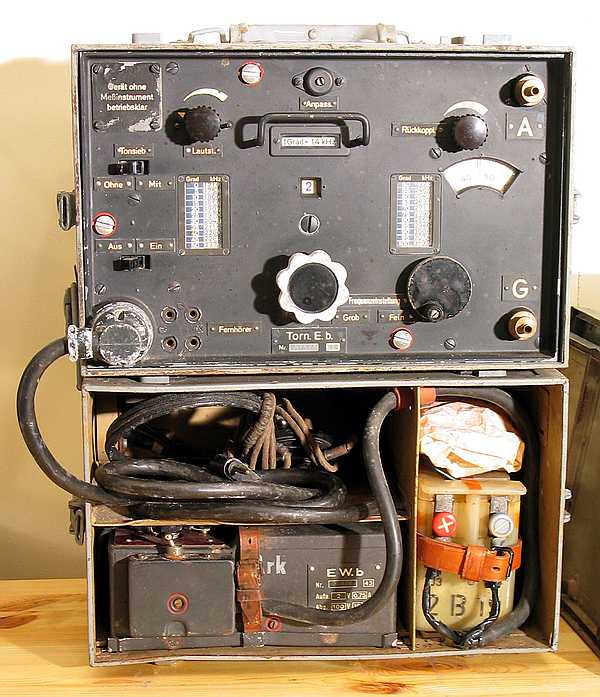 Serial no. 11663, year 1943
Torn.E.b with EW.b power.
.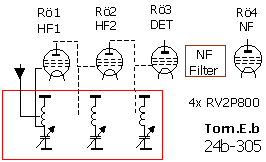 LA8AK's Block diagram of the receiver.

TRF-Receiver with 3 tuned circuits and a regenerative detector.
Two HF amplifiers, detector and audio amplifier with AF filter.
This receiver has better audio quality when receiving SSB than
most of the modern plastic radios.
Four RV2P800 are used in 1.RF amplifier, 2.RF amlifier,
detector and AF amplifier.

Frequency range is from 0.097 to 7.095 MHz.
--- Band l --- 97-175kHz
--- Band 2 ---172-310kHz
--- Band 3 --- 306-552kHz
--- Band 4 --- 541-977kHz
--- Band 5 --- 958-1720 kHz
--- Band 6 --- 1685-3030 kHz
--- Band 7 --- 2940-4760 kHz
--- Band 8 --- 4420-7095 kHz

Power requirement is: 2V, 0.8A and 90V, 10mA (HT)
Bias voltage is generated of a resistor in the negative conductor
in the 90V circuit. The negative terminal of the HT cannot be
connected to gnd.

EW.b power supply 2VDC and 90VDC to Torn.E.b.
A 2-volt lead battery is the power source.
This is, however, difficult to get to work.
I have therefore designed this little 12V to 2Volt converters.
It fits in nicely on top of the battery.
Have used a special regulator that generates very low EMC noise.
The input and output is strongly filtered.
I can now use Torn.Eb in the field by only having 12 volt DC battery connected.
---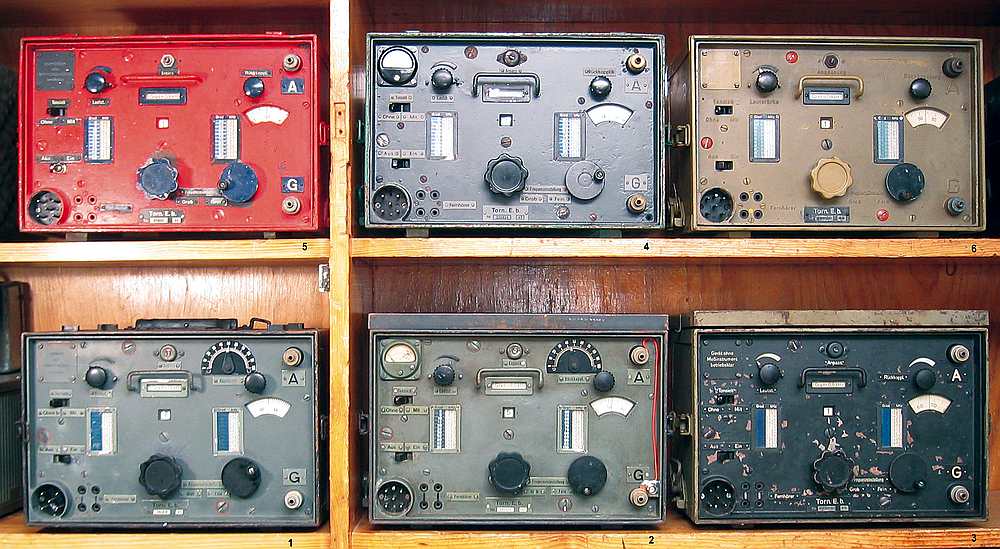 Here is some of my Torn.E.b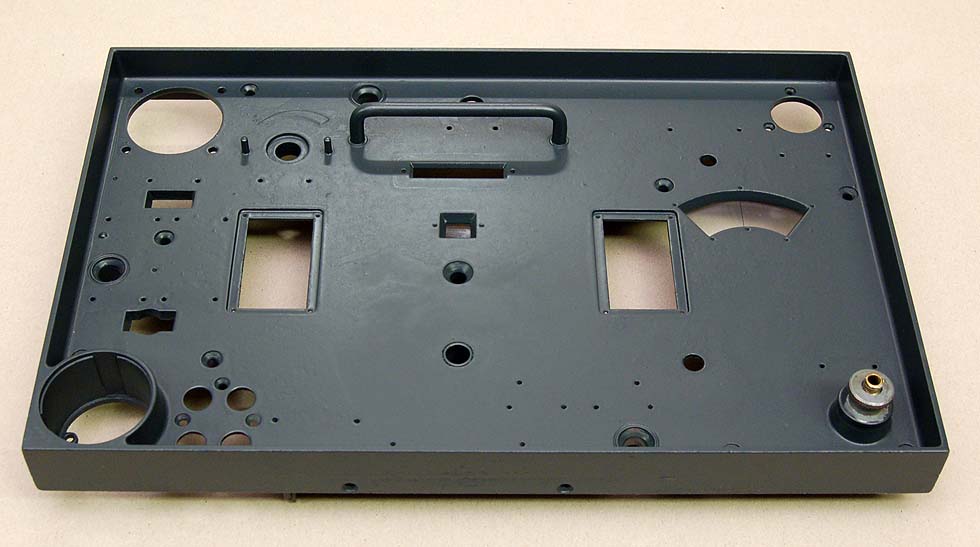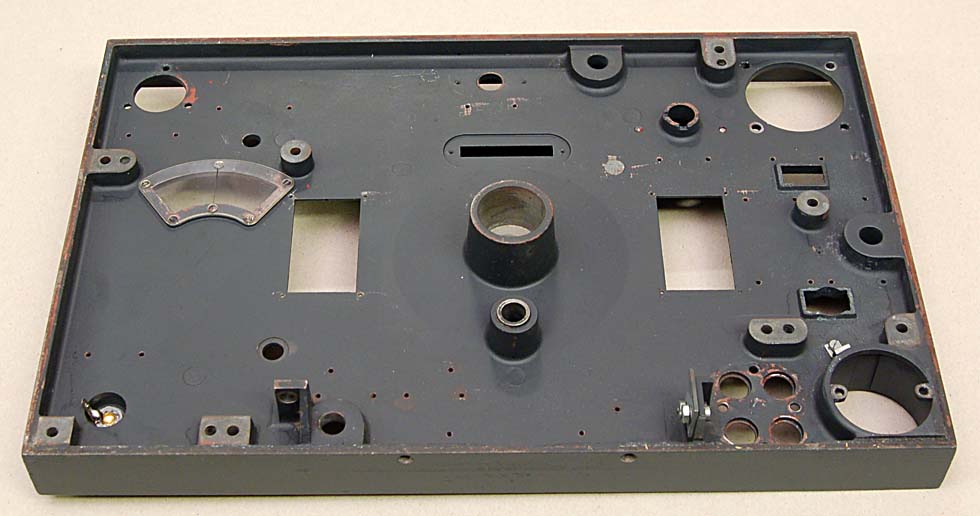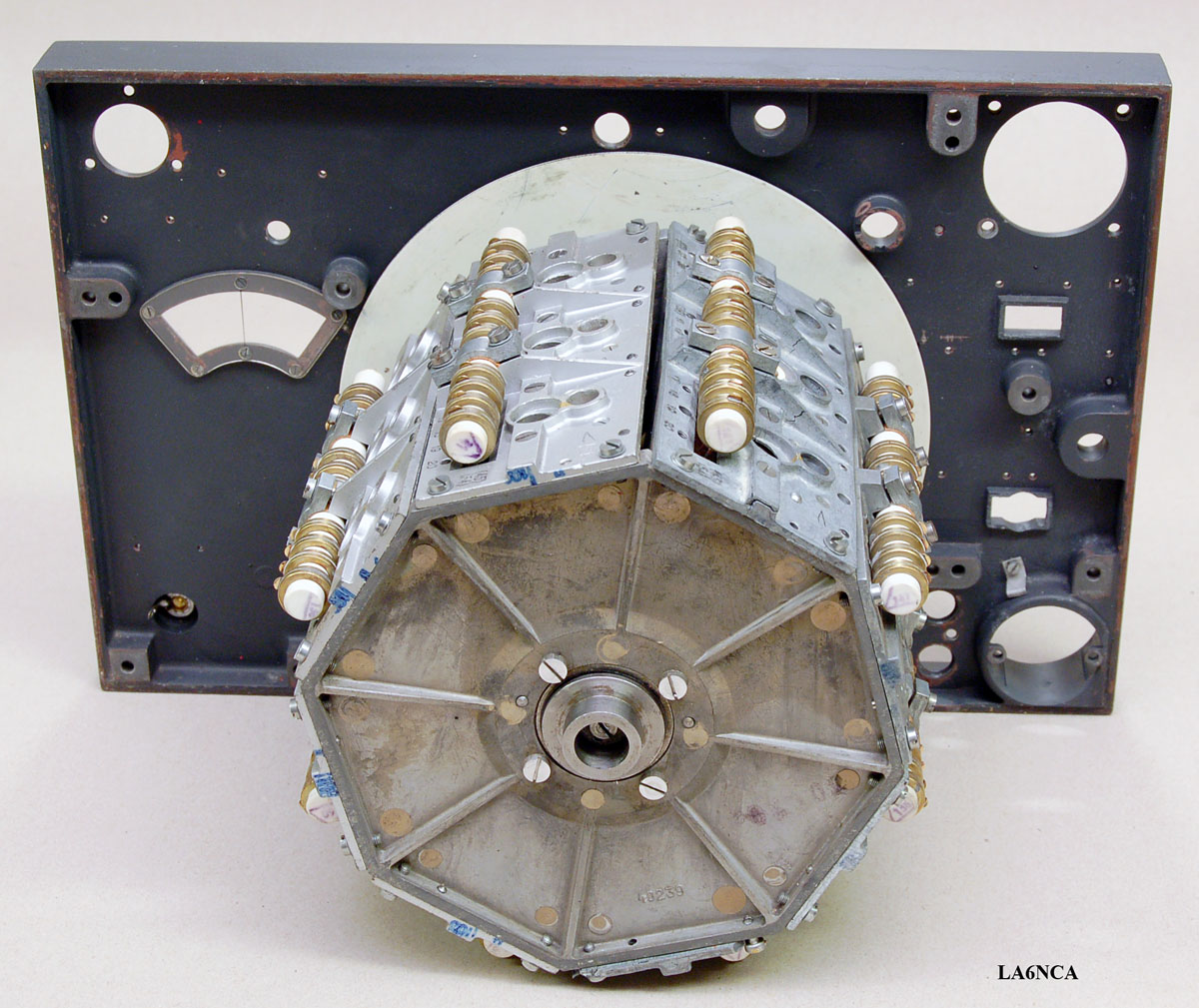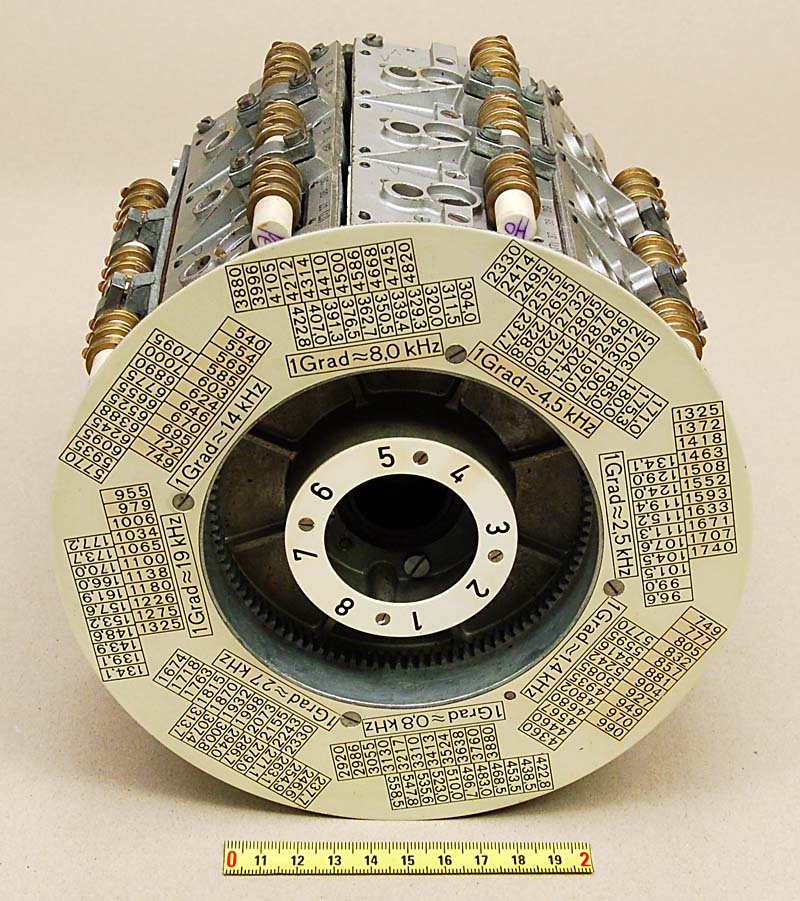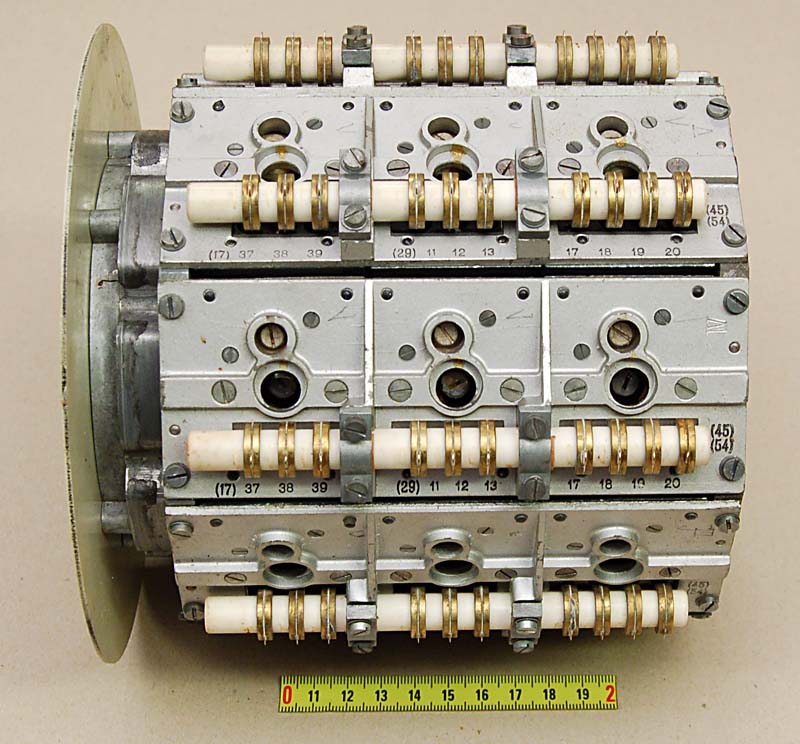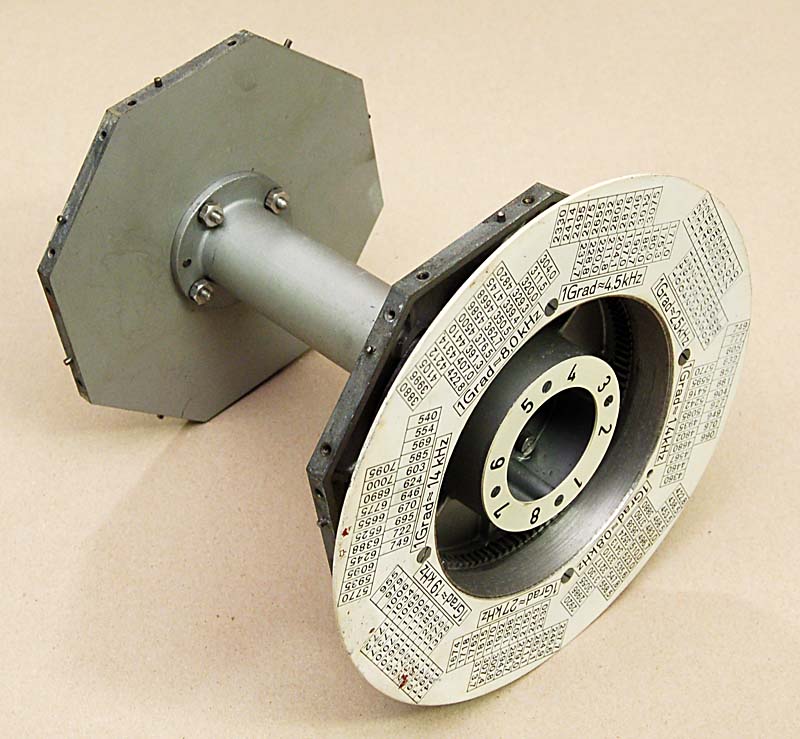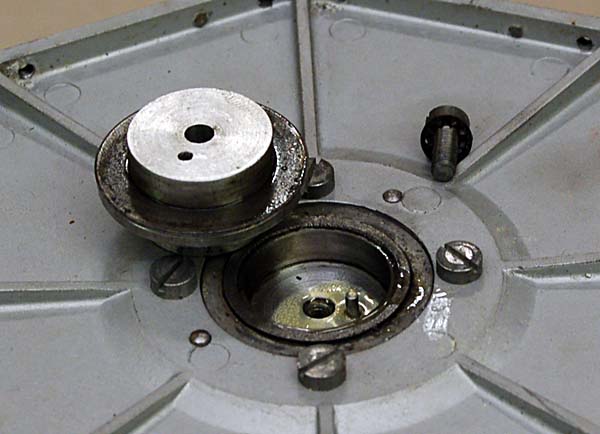 ---
YUGOSLAV Torn.E.b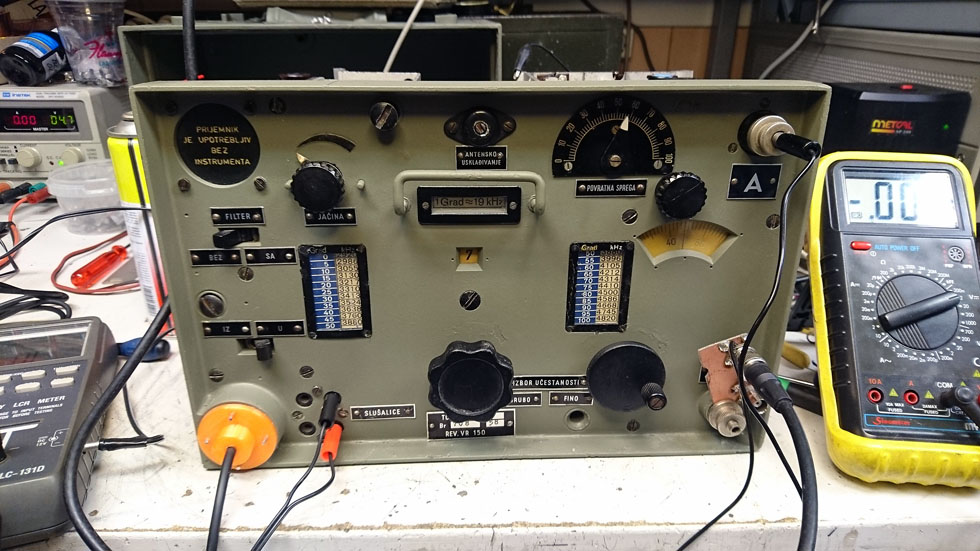 ---
Serial no. 204366, year 1941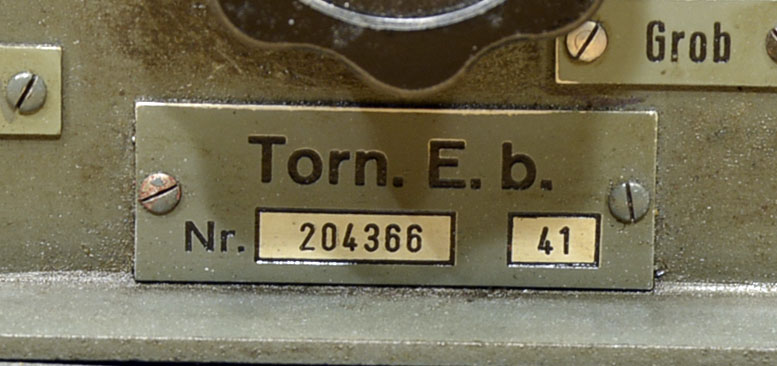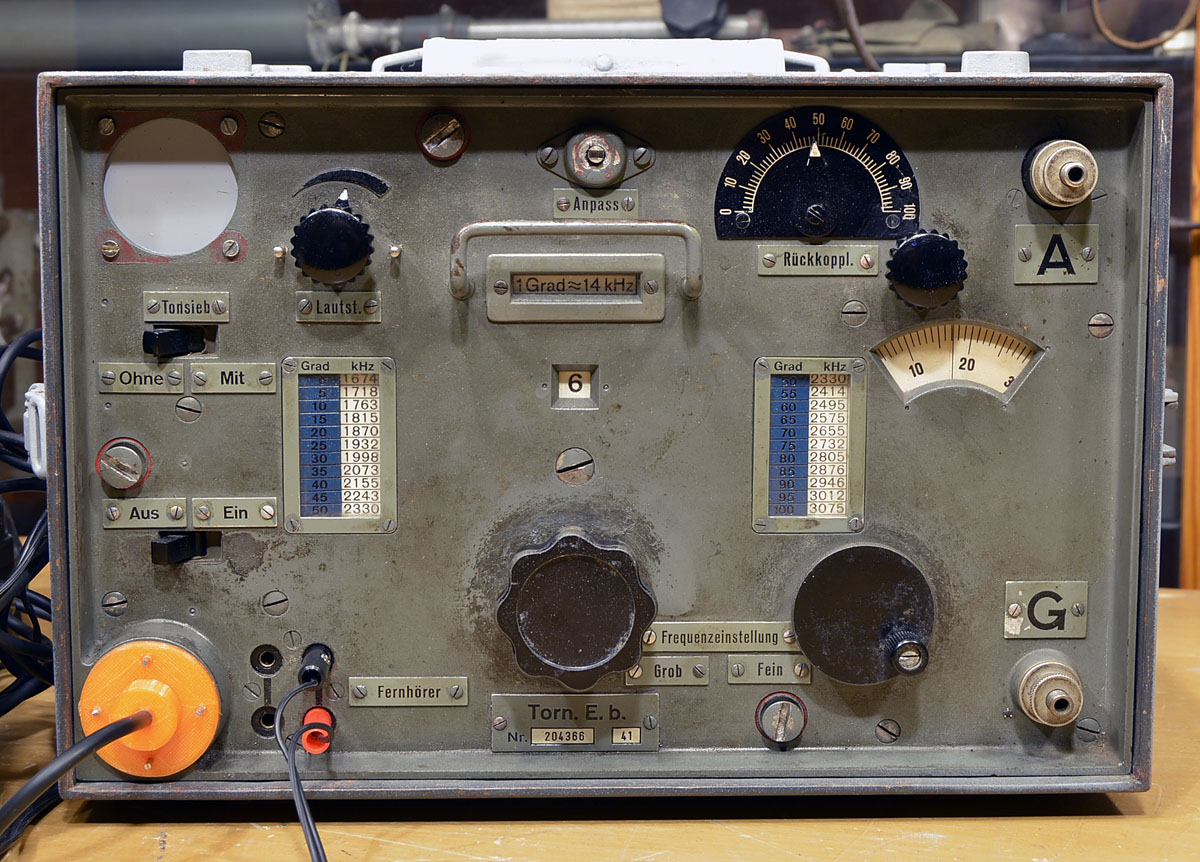 I have 3D printed a power connector.
The color is a bit strange, but it can be painted.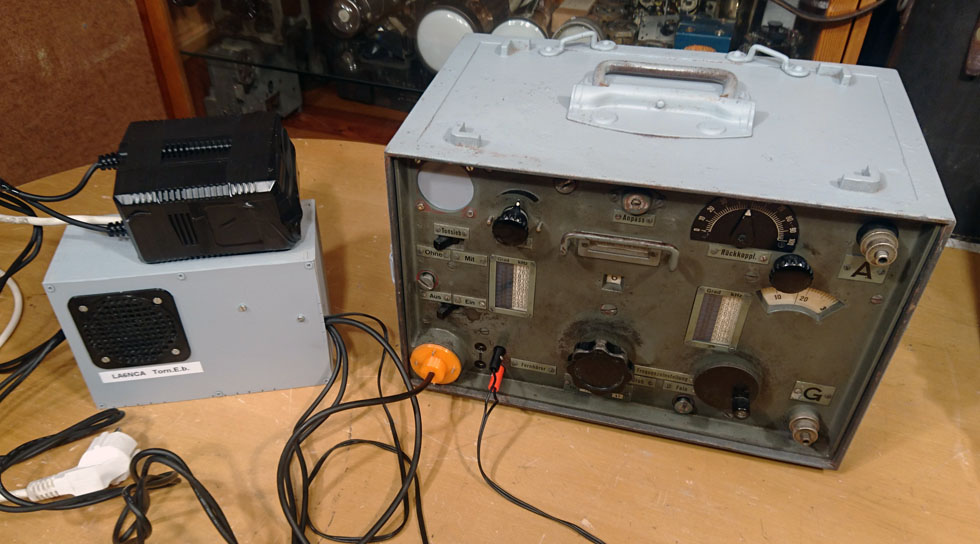 Here I have made a complete receiver setups.
Torn.E.b, Powersupply, Audio amplifier and Speaker.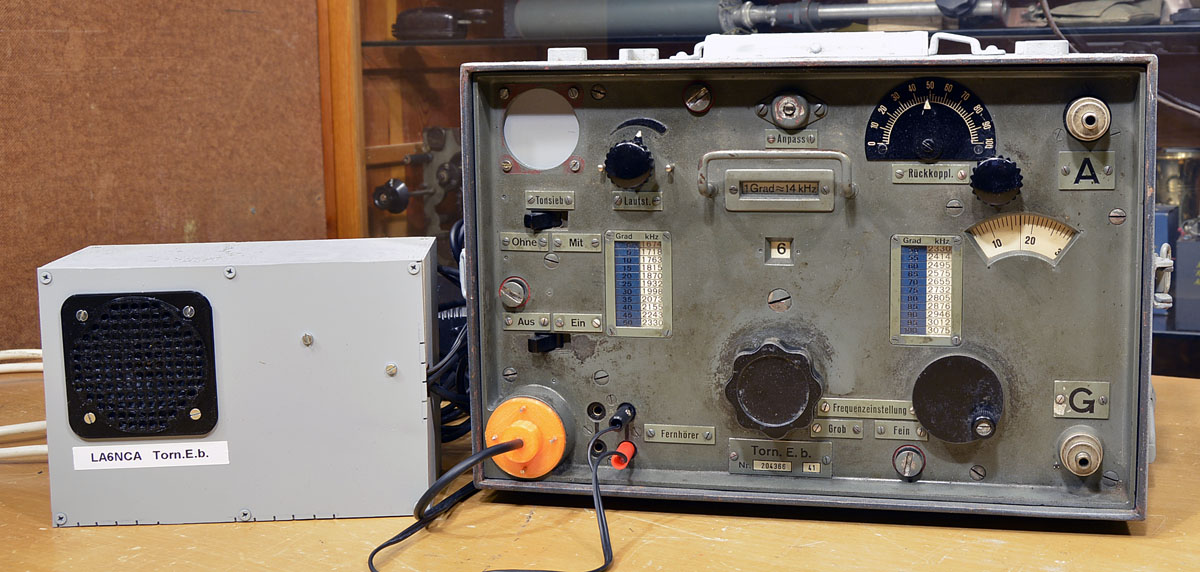 The speaker looks small, but it sounds very good. The box acts as a small bass reflex box.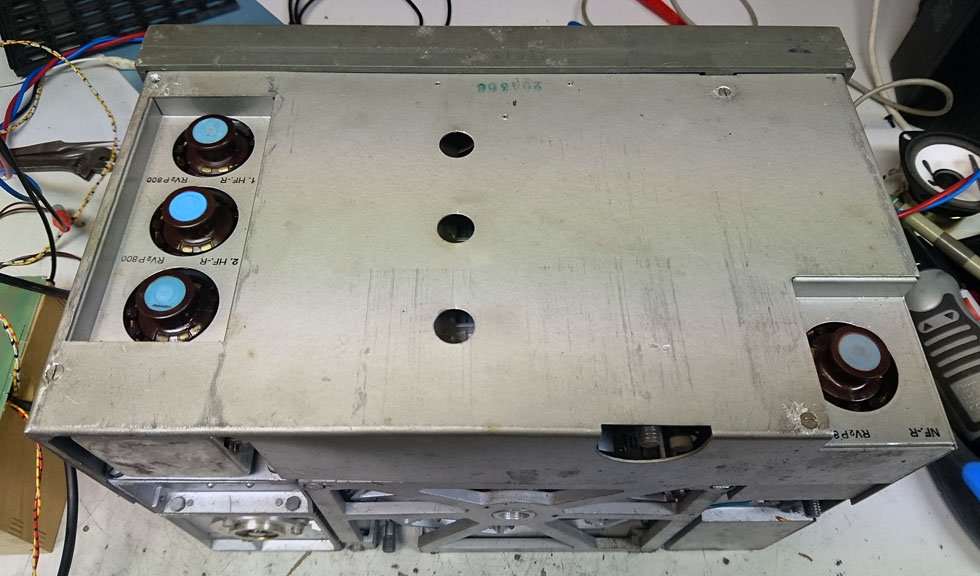 This Torn.E.b has an inner cover that covers the entire receiver.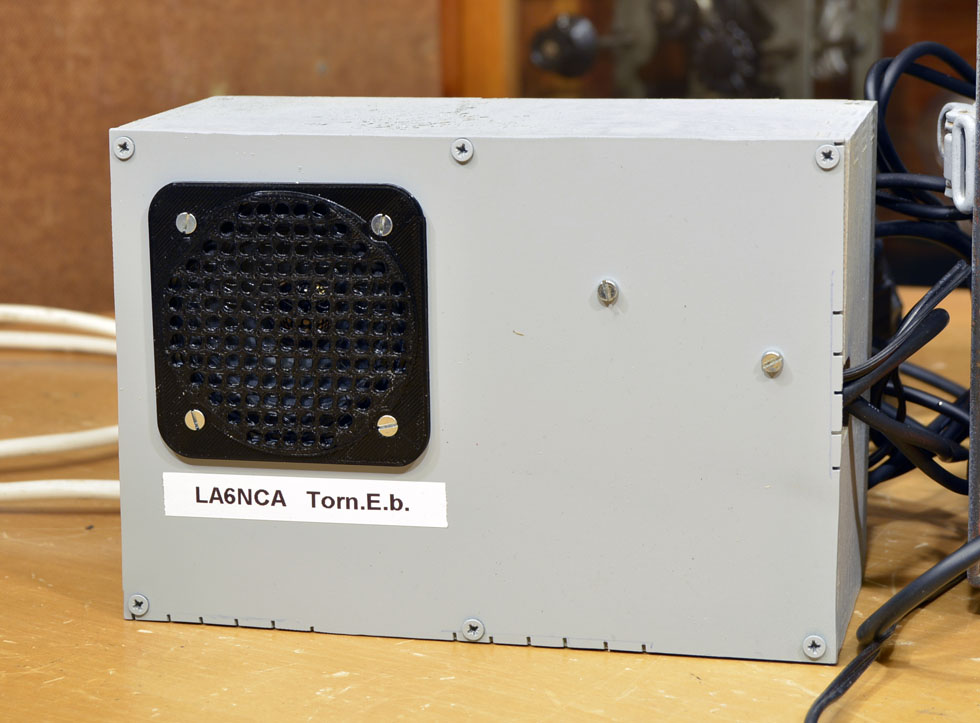 Power Supply with Speaker Amplifier and Speaker.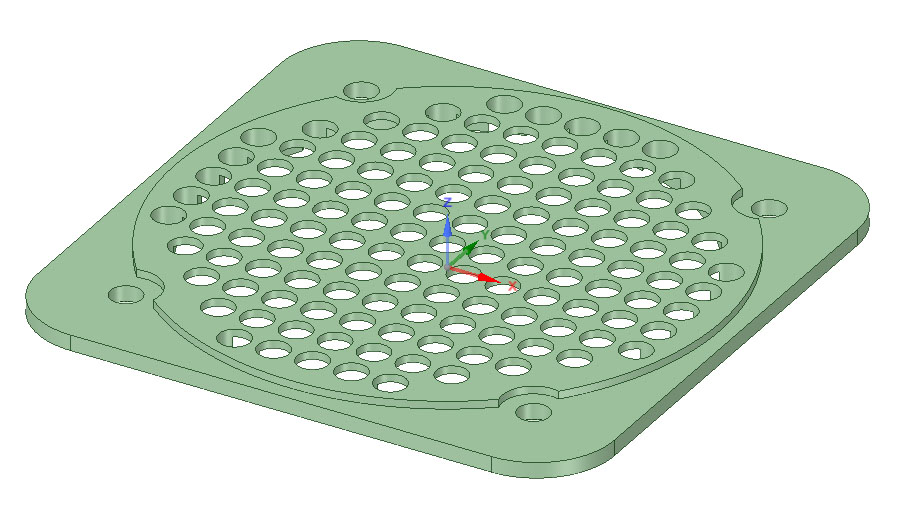 I have designed my own speaker front.
hoeyttalerfront.stl
hoeyttalerfront.rsdoc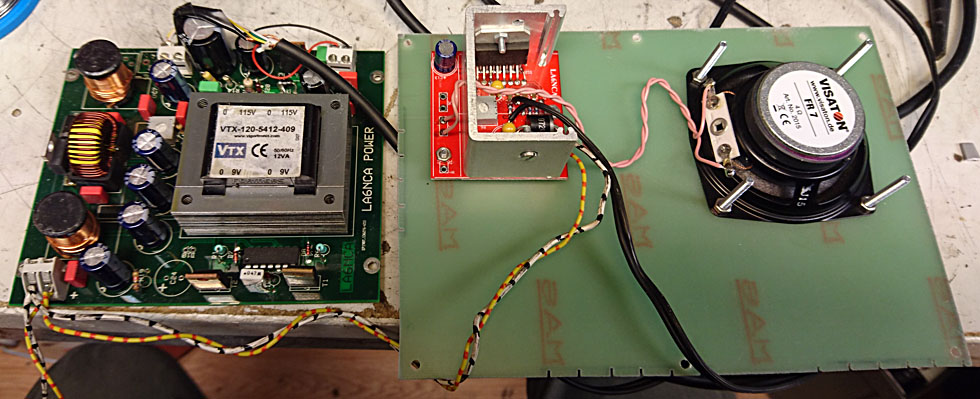 Here I have mounted the audio amplifier and speaker on a fiberglass plate used as a front plate.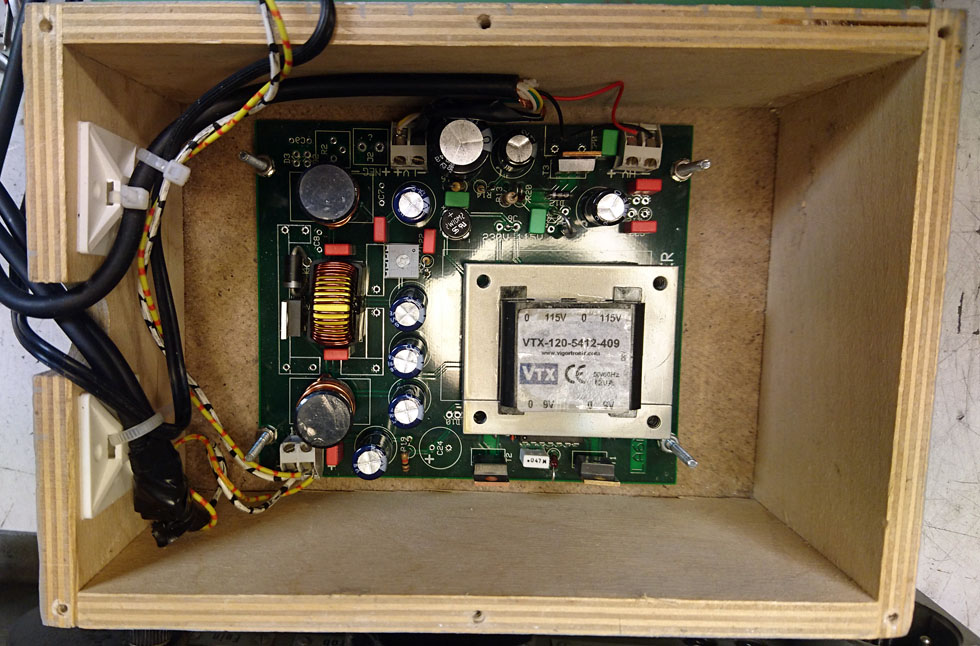 Here the power is mounted in an Ikea box.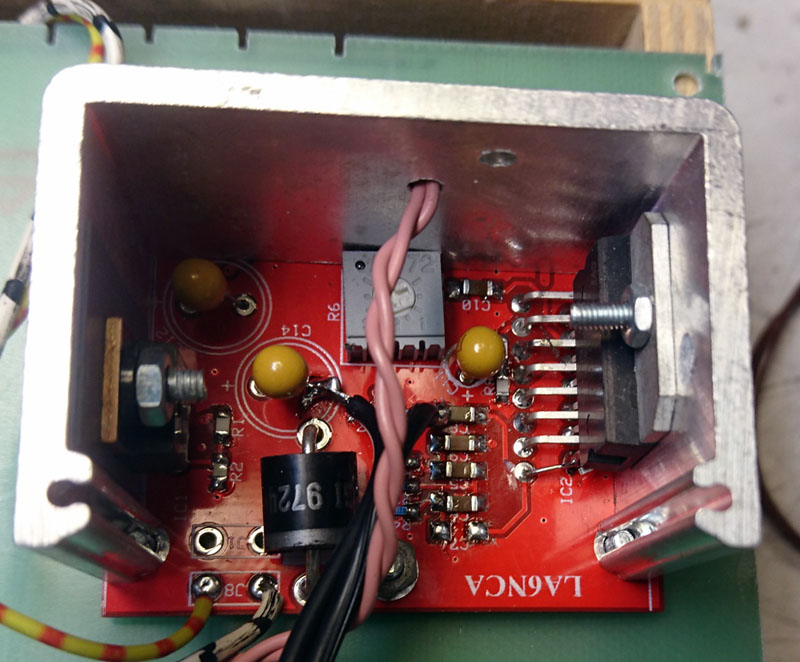 Here is my audio amplifier. I designed a small amplifier on a small circuit board.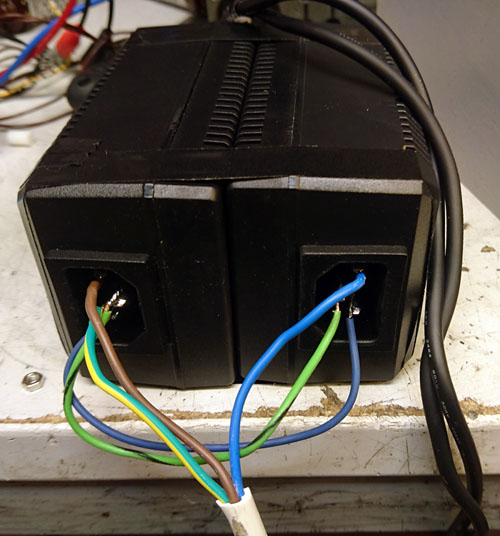 The Torn.E.b power uses 12VDC. I use two 115VAC to 12VDC powers to generate 12Volt.
The inputs are connected in series and the outputs are connected in parallel. This works fine.


---
Serial no. 22494, year 1944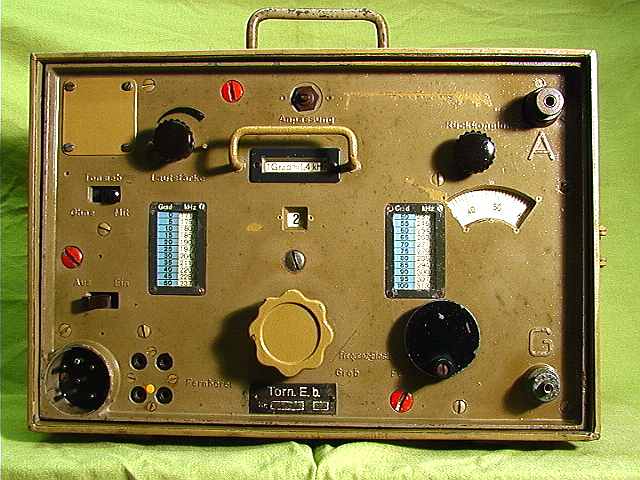 This Torn.E.b is very heavy. A special heavy die cast material is used.
This material is used late in war in many radios.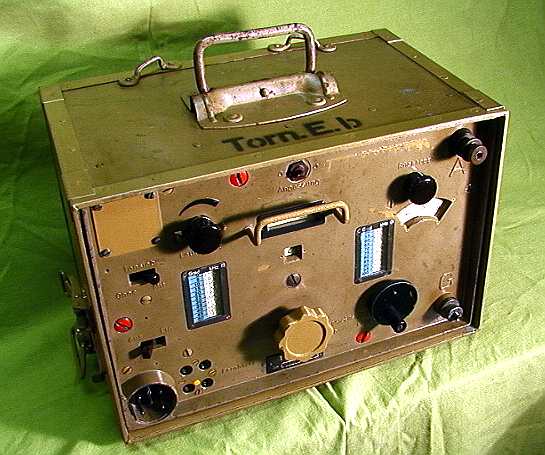 The colour is "Einheitstarnfarbe Europa". This was used from 1944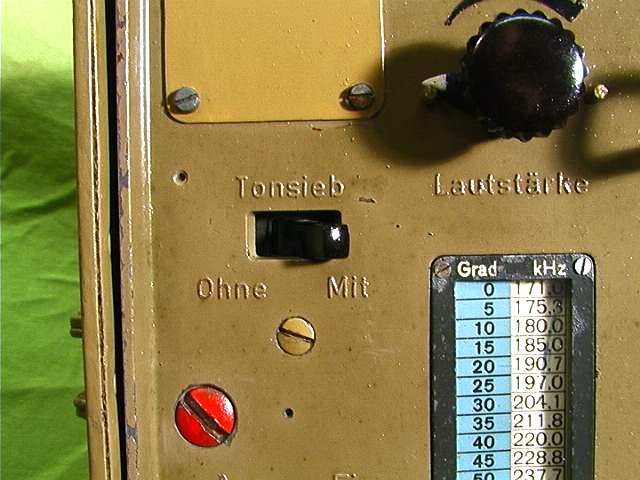 The marking is directly in the die cast front plate.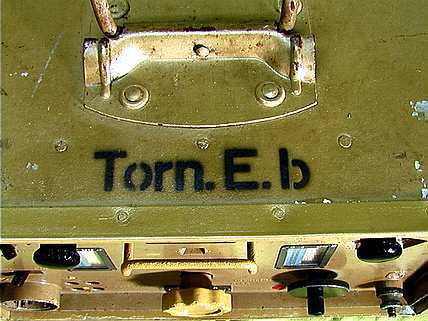 Torn.E.b marking at the top of the case.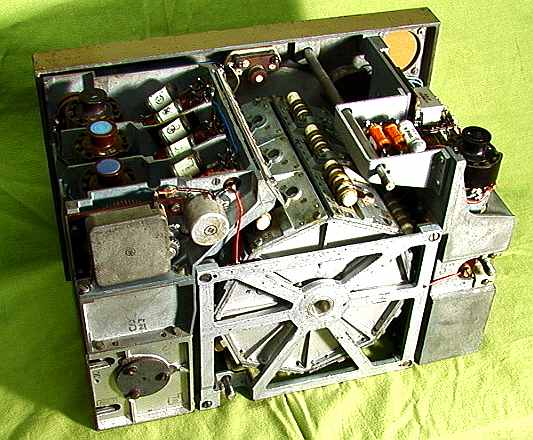 Inside Torn.E.b. This Torn.E.b have no inner cover. This was done late in 1944.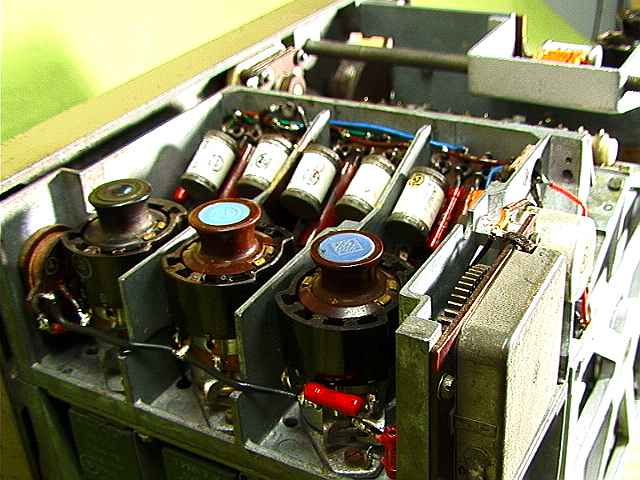 No screw holes for inner cover.



---
Serial no. 204610, year 1941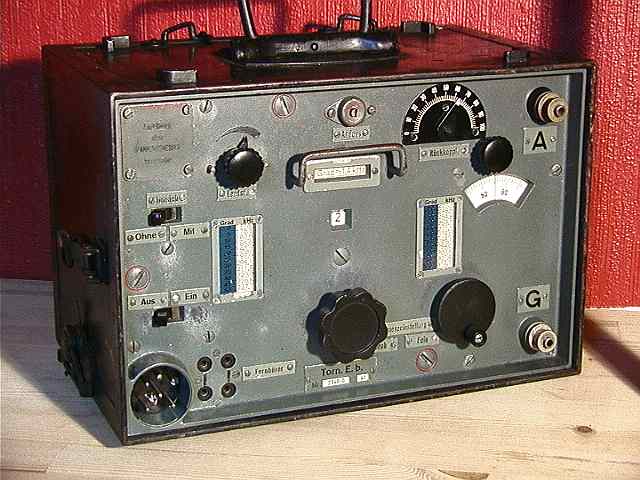 Torn.E.b after restoration.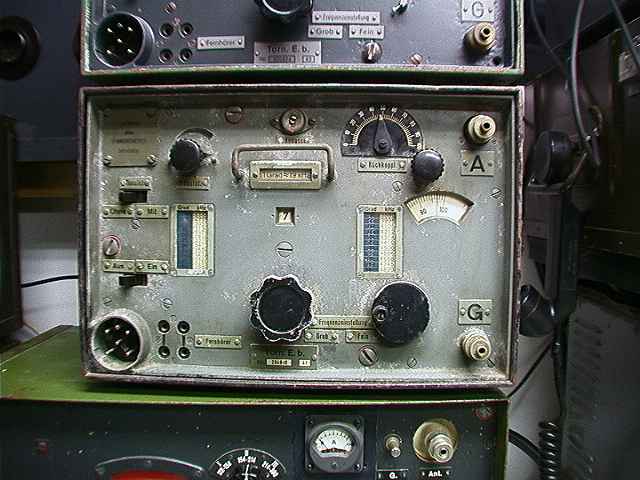 Torn.E.b before restoration.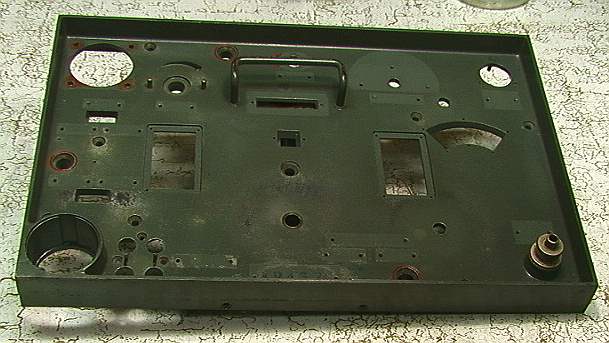 The front plate is here washed in a washing machine.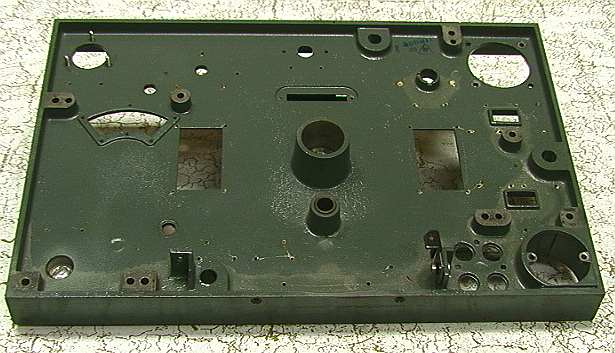 Inside the front plate.

---
Serial no. 320824, year 1943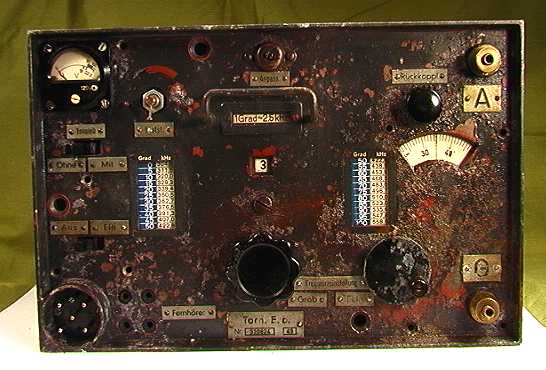 Torn.E.b before restoration.


The Torn E b was designed around 1935/36.
It was in use with the German Signal Corps.
The power consumption is 2 VDC, 1A and 90 VDC, 12 mA.
It is a tuned radio frequency (t.r.f.) set with four RL2P800 type tubes.
The receiver has two r.f. amplifiers. a regenerative detector and an audio output stage.
The set covers the frequency band 100-6970 kHz in eight ranges.
--- Band l --- 97-175kHz
--- Band 2 ---172-310kHz
--- Band 3 --- 306-552kHz
--- Band 4 --- 541-977kHz
--- Band 5 --- 958-1720 kHz
--- Band 6 --- 1685-3030 kHz
--- Band 7 --- 2940-4760 kHz
--- Band 8 --- 4420-6970 kHz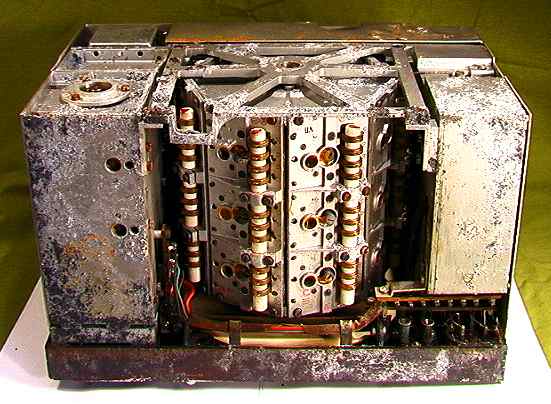 Under. Here we see the large rotating coil turret.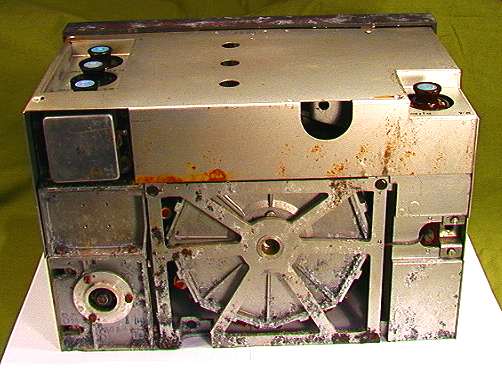 The radio seen from behind. The tubes are the blue
"buttons" that sticks up into small holes.

RESTORATION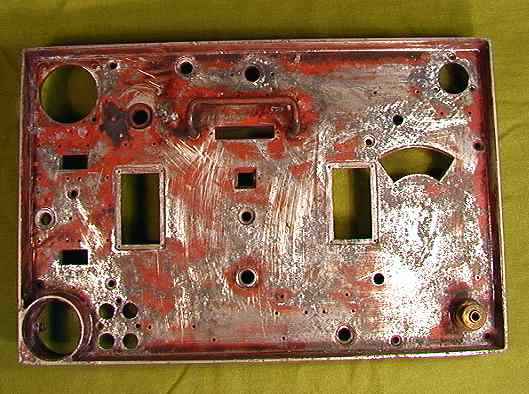 The faceplate was completely corroded, so I chose to remove all parts and
repaint it. Here, the parts have been removed and the plate cleaned.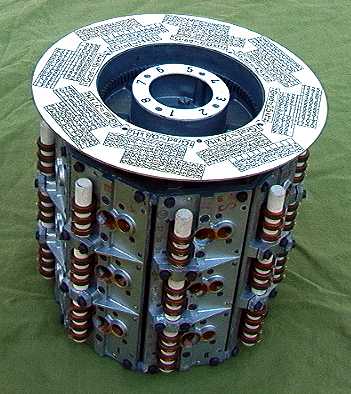 The coil turret is of cast alloy and contains completely screened box for each coil.
It has 8 frequency ranges which is selected by rotating the entire coil turret.
A small window in the faceplate shows the number of the inner white ring.
Two windows on each side of the center shaft shows a frequency table used for
to set the correct frequency on the frequency button.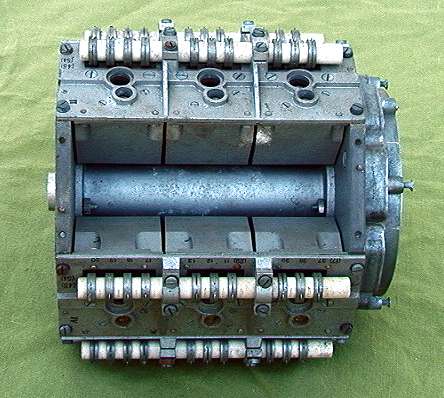 Her er en av spolesettene fjernet. Vi ser her at endelokkene i
spolesentralen består av 8 kantede støpte og maskinerte plater.
I midten er det et rør som er dreid ut som et glidelager for akselen
spolesentralen roterer om. Til høyre på bildet ser vi hakkene
som sørger for at spolesentralen stopper i riktig posisjon. Et
fjerbelastet hjul går ned i disse hakkene.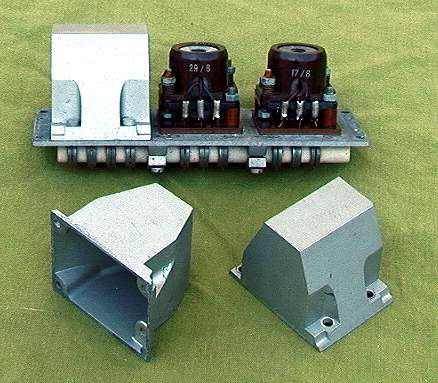 Coil set for one frequency band.
Her er et spolesett demontert. Hver spolesats består av tre resonanskretser
som bastår av en spole og en kondensator. Disse er montert inne i
støpte aluminiumbokser. Disse er montert fast på et støpt og maskinert
lokk av aluminium. På toppen av lokket sitter en porselensstang med
kontakter som sørger for kontakt med rørkretsene.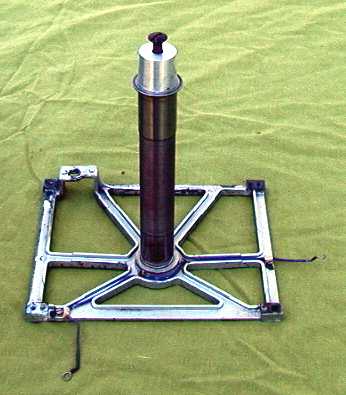 The coil turret shaft.
Her er akselen som holder spolesentralen på plass.
På toppen er akselen dreid konisk. Denne sitter fastskrudd
i frontplaten i et konisk hull. To seksjoner av akselen er
slipt til fin overflateruhet, slik at de fungerer som glidelager
for spolesentralen. Nederst ser vi en støpt aluminiumkonstruksjon
som holder akselen og spolesentralen på plass bakerst.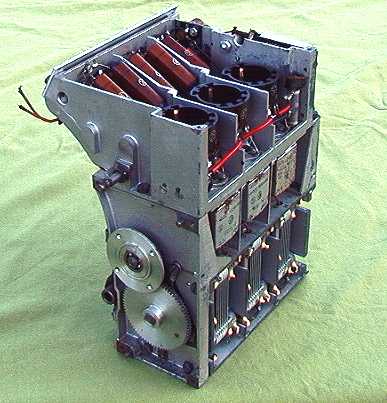 The two r.f. stages and the detector stage.
Her er HF delen med frekvensinnstillingen. Rørsokklene
sitter øverst.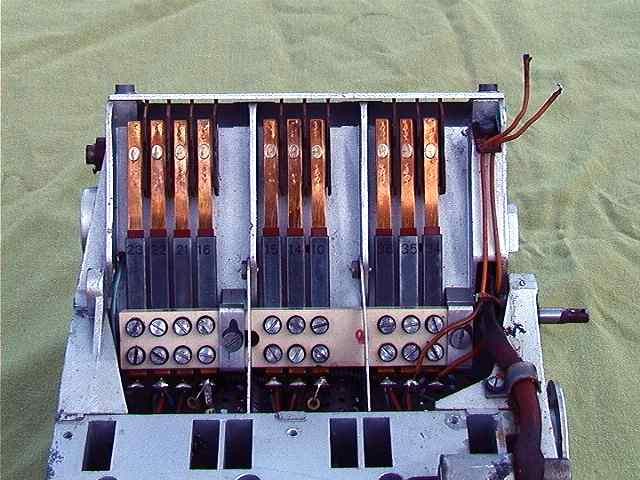 Her ser vi kontaktene som tilkobler seg den roterende spolesentralen.
En porselensisolator holder fast 10 messingfjærer. Under isolatoren
ser vi ledningene som går til rørene.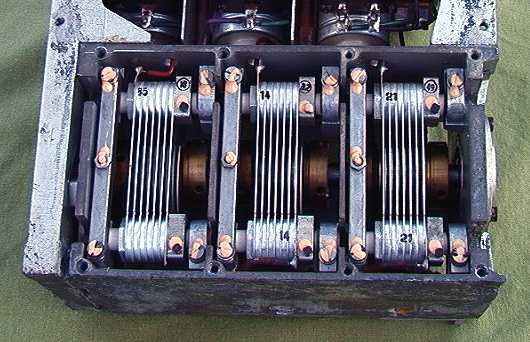 The three gang tuning capacitor.
Her er frekvensinnstillingskondensatoren. Her er rotoren
tilkoblet jord. Statorene er montert på porselensisolatorer.
I hver ende av akselen er det kulelagere. Hver av kondensatorens
deler sitter i hvert sit rom i den støpte metallkassen.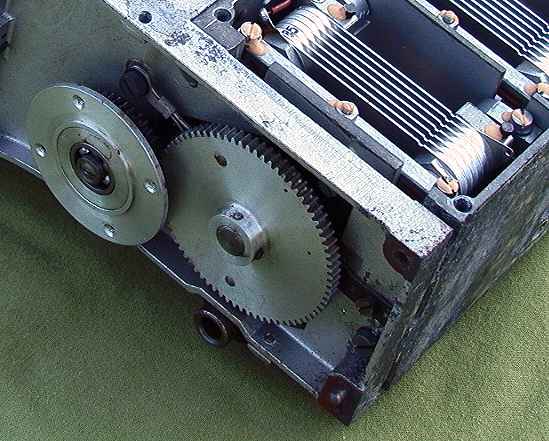 Her er nærbilde av frekvensinnstillingen. På hjulet til venstre
skal frekvensskalaen sitte. På dette hjuler er det et todelt tannhjul
med fjærbelastning for å hindre slark.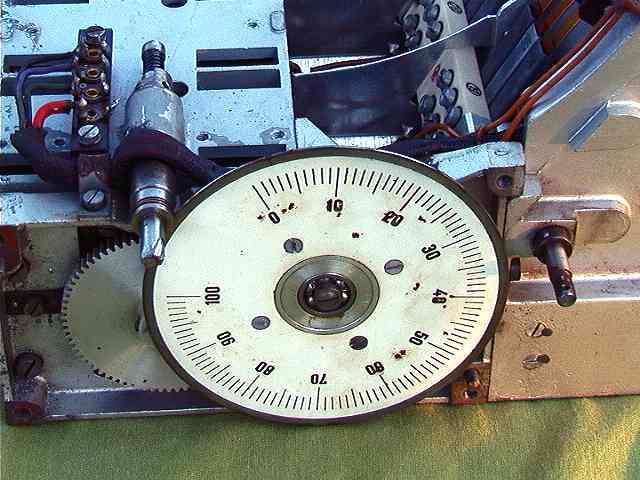 Her er skalaen montert. Skalahjulet sitter på et kulelager.
Til venstre på skalahjulet ser vi akselen til frekvensknappen.
Den overfører rotasjonen til skalahjulet hved hjelp av to
fjærbelastede messingskiver.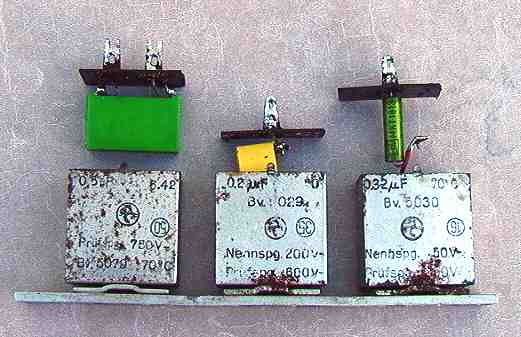 All the capacitors were damaged, and were replaced with new MKT capacitors.
Alle kondensatorene var defekte. Jeg måtte derfor bytte ut alle sammen.
For at radioen skal se orginal ut måtte jeg bytte ut innmaten i de eksisterende
kondensatorer. Ved å varme dem med en rødspritflamme smeltet beket
invendig slik at jeg kunne dra ut innholdet . Nye MKT kondensatorer ble
så montert.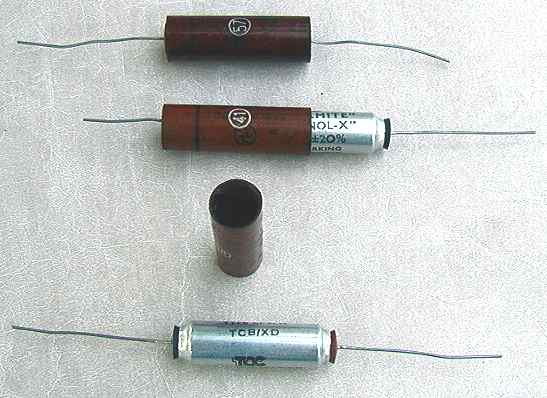 Også de runde kondensatorene var defekte. Her varmet jeg opp kondensatoren
og dro ut innholdet. En ny kondensator ble så skjøvet inn i det gamle røret.
Det ble dermed helt umulig å se forskjell på nye og gamle kondensatorer.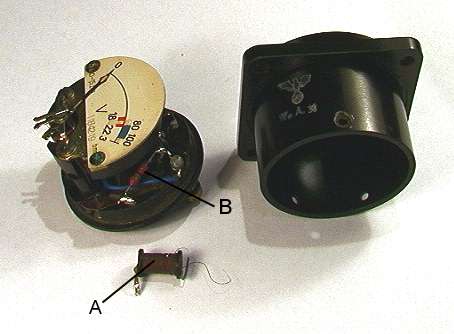 A new 2 Volt serial resistor was mounted. (B) = new, (A) = old.
Måleinstrumentet var også helt defekt. Alt satt fast, og seriemotstanden
for måling av 2 Volt var defekt. (A) viser den gamle trådviklede motstand.
(B) viser den nye motstanden montert. Verdien på denne er 1K5. Denne
verdien ble funnet etter tester. Alle beveglige deler ble renset og smurt
med en rense og smørespray. All overflødig væske må fjernes.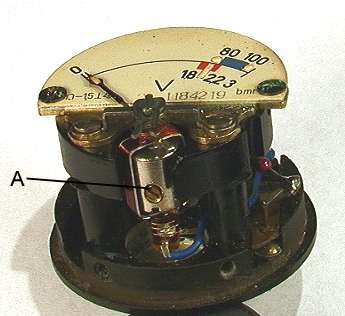 Bearing adjustment screw.
Instrumentlagerne måtte justeres med skruen (A).
---

AFTER THE RESTORATION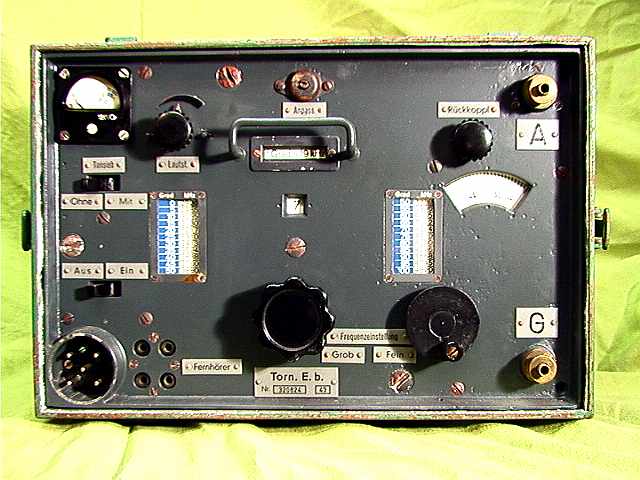 Her begyner radioen å bli ferdig.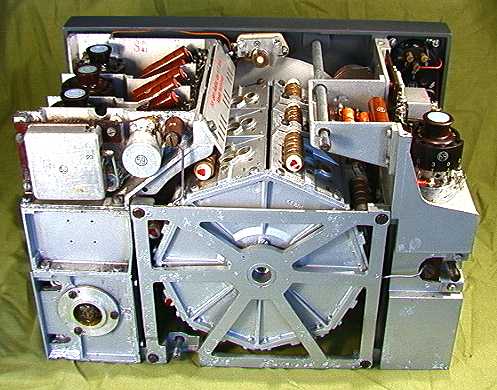 Korrosjon er fjernet og alle komponenter er renset.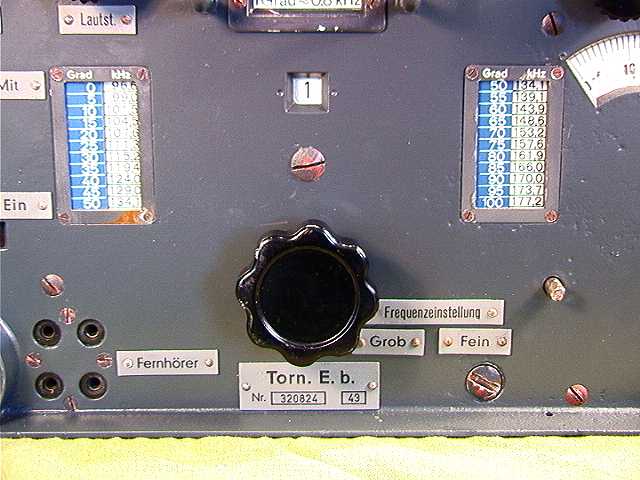 Tekstskiltene er renset og ny farve er lagt ned i de utfreste
sporene. Frekvensknappen er ikke fedig,
---

---
E.W.b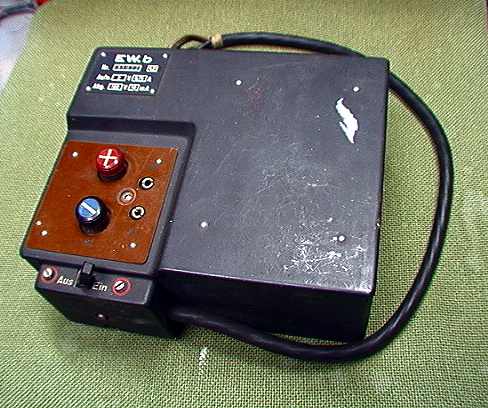 Power for Torn.E.b
Input 2 Volt, Output 90 Volt
---
PICTURES FROM THE ORIGINAL HANDBOOK.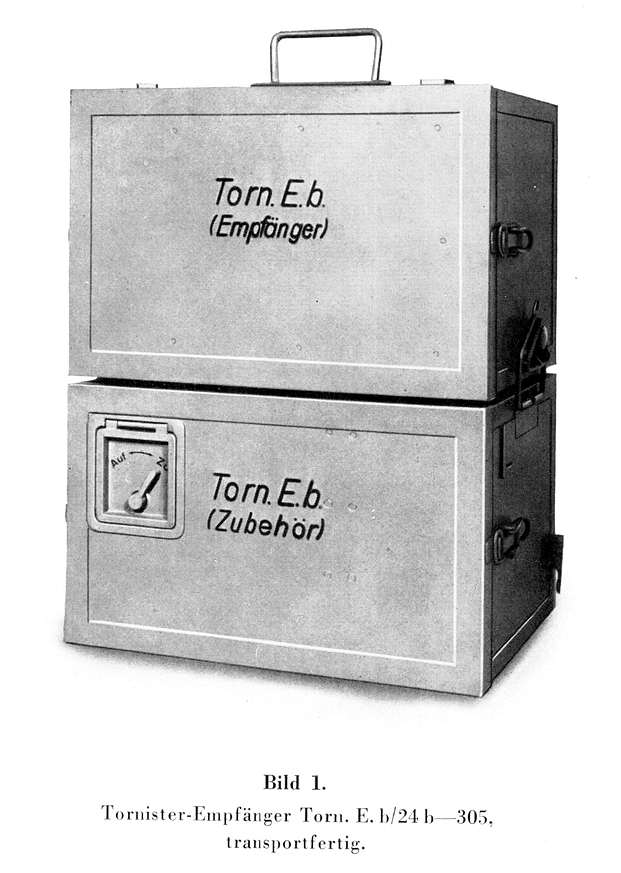 Radio receiver and battery box with front cover.
Ready for transport.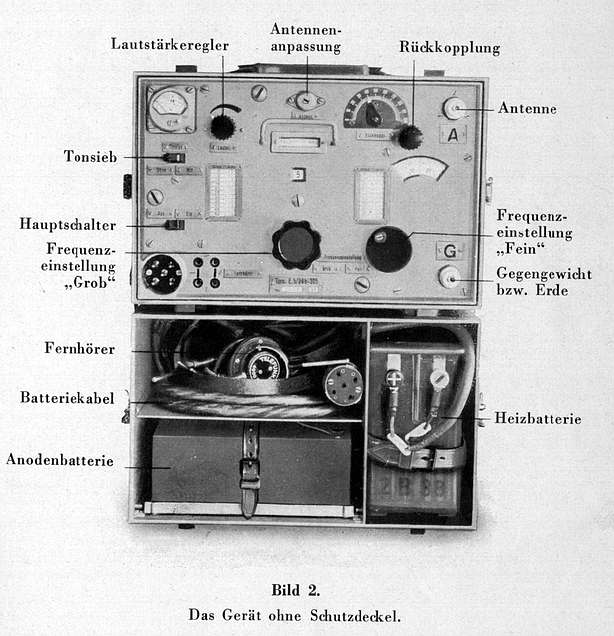 Here are the front covers removed.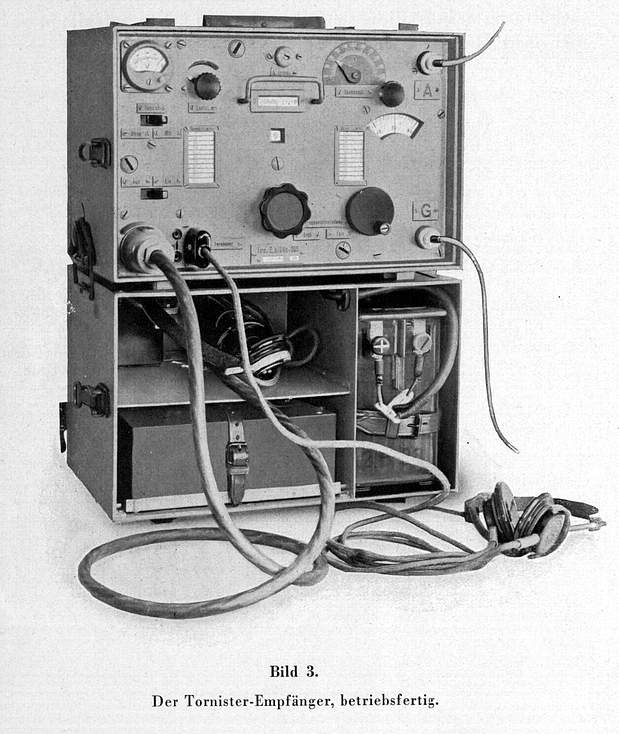 Torn.Eb is here ready for use.
There are two headsets in the battery box.
---
date: 051025